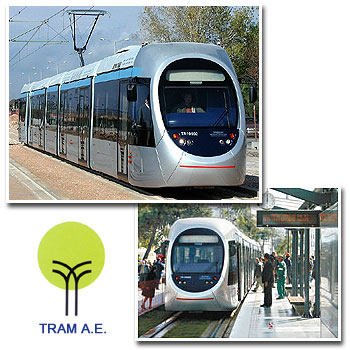 Athens Tram
The Tram was abandoned in the 60s because if was thought of as noisy and out of date. It has now once again become part of the Athenians way of life for the 2004 Olympics.
The application of advanced technologies to ultramodern and highly aerodynamic transport means it has convinced the inhabitants, who are very suspicious by nature, to welcome this practical, fast, quiet and especially 'green' form of public transport.
Thanks to the 28.9 km of new Tram lines, the city has finally managed to take possession of its beaches. There is now a fast link between the centre and the beach areas of the south coastline, which once could only be reached by car or bus.
The two Tram lines are perfectly integrated with the rest of the Athens Metro Network, the underground and the suburban line, creating an urban network of rail transport 156 km long!!!