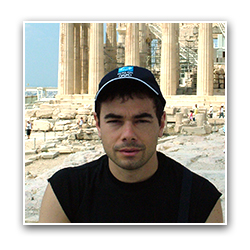 How and why this project was born
This site was founded in 2004, during the Olympics held in Athens in the August of that year. It was created through the great love I have always had for my hometown and so for the Olympics I wanted to create a resource that would show the world a different side to the city, which until then was seen and known only for its main monument — the Acropolis, which, although beautiful, is nothing but a gem set against a lively and dynamic urban backdrop that has much more to offer than a simple quick visit to the remains of ancient Greece.  (Demetrio Rizzo, artist, web designer and blogger)
Athens-Today.com now has updated graphics (the site now uses "responsive design" and is therefore easily navigable also with smartphones and tablets).
Over the years, various collaborators have joined this project, helping to create a team of fans of this beautiful city who are here today to offer you an up-to- date view of the city.
Coming soon: new sections will be opened with a lot of updated and useful information, such as our renewed interactive maps that offer an indispensable guide during your stay in Athens.
If you are also a fan of Athens and would like to offer your contribution, you will always be welcome!
Get in touch with us through our social channels and share your experiences and enthusiasm!
Tell your friends about us and help them have an unforgettable time in Athens!
And if you want, you can also collaborate with us, helping us to promote an increasingly contemporary and alternative image of the Greek capital.