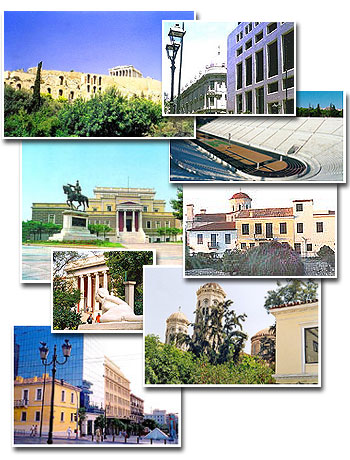 The Athens Historical Centre
The historical centre of Athens can be divided into three areas, all totally different from each other and fine examples of the three main historical periods:
1) The archaeological area, the green belt of the city, is a concentration of the most magnificent monuments of classical Greece situated inside an enormous pedestrian area which links parks, green areas and archaeological sites. It's a unique place of extraordinary beauty! Within the park there are the capital's main archaeological museums.
2) The ancient quarters, nearly all pedestrianized, have been well preserved and are full of exceptional samples of Greek, Roman, Byzantine and Neoclassical architecture. They are the ideal place for people who want to discover Athens of old times.
3) The Modern Area of the historical centre (The New Athens) has been the institutional, commercial and vital centre of the capital for the last two centuries. Unlike the other two areas, it has maintained a rich architectural energy throughout the years, and today can offer the onlooker original contrasts between classical and post-modern aesthetics, with colonnades and reflecting glass façades. The area is dominated by tall modern buildings literally leaning against 19th century villas; it should be explored in depth and appreciated for its continual evolution, , which gives us an insight, with each detail, into the way humankind is developing in a vital architectural contest.