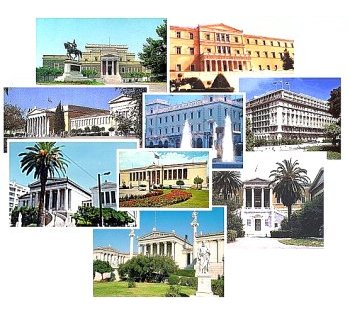 Neoclassical Athens
Besides its huge archaeological park and old quarters, Athens may mainly seem a modern city because of the many high rised buildings. However, the archaeological heritage of the last centuries has been preserved and is hidden amongst its more modern buildings.
Besides the old areas, the style of Athens centre doesn't appear harmonious and consistent like in many other European cities, but herein lies its main feature. The city has always been dynamic and lively and it has purposely meshed styles and trends, managing however to retain live and rich evidence of its past. This not only includes the recent past, but also the Byzantine and Ottoman periods through to the neoclassical of the 1800.
Since the War of Independence, many interesting and fascinating architectural projects have been carried out. During the 19th century the style that was of maximum impact was the Neo-Hellenist, combining the fashionable European neoclassicism with an unique stile inspired by Athens itself, its history and its monuments, which after thousands of years are still here to remind us of the grandeur of classical Greece.
To discover Athenian neoclassicism, you need to wander into the city centre, go for long walks along its avenues and its smaller streets to get in touch both with modern and neoclassical Athens, which is made up of elegant institutional and residential buildings.
In the historical centre there are hundreds of perfectly kept or skilfully restored neoclassical villas. Excluding the archaeological park and the old quarters, the centre consists of its three most famous squares Omonia, Monastiraki, Sidagma and of the very modern Megaron Musikis, the sublime auditorium and the famous music centre situated on the elegant Vasilisis Sofias Avenue.
Thanks to successful government projects to reconvert and to exploit the central urban areas, Athens today appears to be renovated, embellished and much easier to get around than it was in the last decades of the 20th century. Many central areas are totally different, having been pedestrianized. New green areas have been added with impeccably restored buildings.