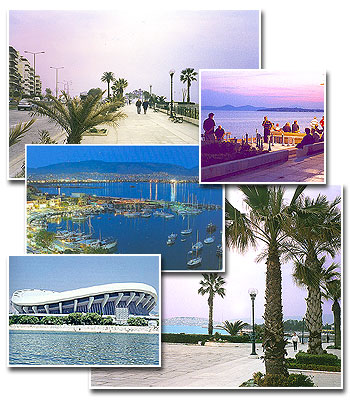 The Athenian Seafront
The coastline of Athens stretches along the gulf of SaronikÚ for 20 kilometres with breathtaking views. During the day the ultramarine blue of the sea contrasts with the pure white of the houses which completely cover the Castella peninsula (
Pireaus
), while at night 20 km of lights embrace the wonderful bay.
In recent years the coastline has completely changed, where five years ago there was the sea, now there are ecological parks and well-equipped beaches. Where once were illegal night clubs, now there are green areas, sports facilities and new beaches. Athens is once again in charge of its coastline that was for years mistreated with illegal building and improper use.
To facilitate and incentivate the use of the new coastal areas they have built a tram network, among the most modern in Europe and a new promenade called "esplanada". The latter consists of a huge high-raised pedestrian area 50 metres wide, starting from Singrý Avenue and overlooking the junctions and avenues of the area, allowing visitors to easily reach the coast and at the same time offering them a spectacular view. The Esplanada ends close to the new beach and to the Averof, the historical Greek battle cruiser that is moored on the quay in memory of the modern fight for freedom.