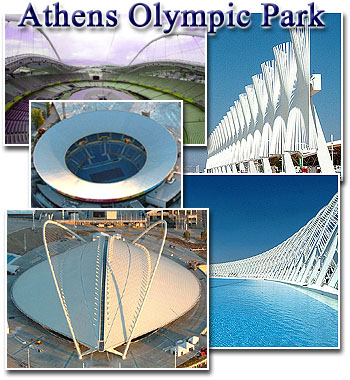 The Athens Olympic Sport Complex (Olympic Park)
The OAKA is the Athens Olympic Sport Complex and is seen by many as a work of art in every respect, not only is it the main Olympic complex of the Greek capital, comprising of some of the most important sports facilities, but it is also one of the most important monuments of Athens after the Acropolis.
The Olympic park is in the modern quarter of Marussi 10km north of the centre, it is a huge architectural complex that sums up the skills and creativity of the Spanish architect Santiago Calatrava. The park has been reconstructed to house the Olympic games of Athens 2004 and the architect has created an unprecedented spectacular project, letting his imagination loose.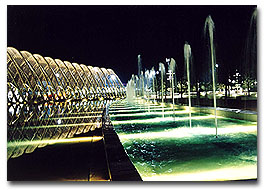 On approaching the complex the visual impact is really strong, it is made of impressive steel and glass structures higher than 60 metres! The OAKA is made up of modern works of art and world records starting from the Olympic stadium which has the biggest and most spectacular steel and glass covering ever built, there is the beautiful covering of the Velodrome, the Agora, the wall of nations and still more. It is a futuristic park in which you feel as if you have abandoned the present and have suddenly been launched into the future! Even the walkways linking the various park structures have been researched accurately; they are completely made of white marble and are placed radially and symmetrically so that from above they form the shape of a huge sun.

The fantastic Olympic park is not only renowned for Calatrava's exclusive work, but also for the sports facilities which are among the most important in Europe.
The Olympic park was built in the early 80s, with the new Olympic Stadium of 78,000 seats called "Spiros Louis", who was the first Olympic champion of the modern games. During the following years other facilities were added, like the fantastic cycle-racing track, the Olympic Swimming mega complex with 5 swimming pools, one of which seats 11,000 all under cover. There is a huge area reserved for tennis with an excellent stadium, and the sports centre seats 16,700. The latter was finished in 1995 and is considered one of the most modern sports centres in Europe. In the area there are also living quarters for the athletes and the biggest centre for telecommunications in the world.
Other than the Olympics of this year, OAKA has housed many high level international competitions for example the European Athletics of 1982, 1991 and 1995, the World Athletics of 1997 and the finals of the European Football Championship of 1983 and 1994.