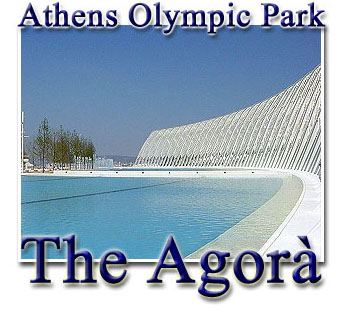 The Modern Athens Agorà
The first impression you get when entering the Agora area is of an idyllic yet futuristic landscape.
The Agora is framed by a huge square, shaped like an amphitheatre, which holds 500,000 people, with wide marble avenues splayed radially extending to a long line of harmoniously set plane-trees and by little artificial lakes and dozens of fountains beyond.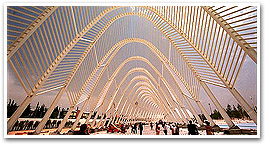 This impressive structure is an unforgettable walkway in the shade of 100 steel arches placed so as to form an enormous tunnel. It is a modern version of the ancient Athenian Agora, it aims to enhance the colours and the characteristics of the Greek landscape, the water, the soil, the sun and the waves of the sea. It is a real work of art and a modern building which is going to compete with the most ancient ones of the city centre.
On the opposite side of the Agora square and of the impressive tunnel made up of arches, the wall of nations is yet another public work that will leave you speechless.