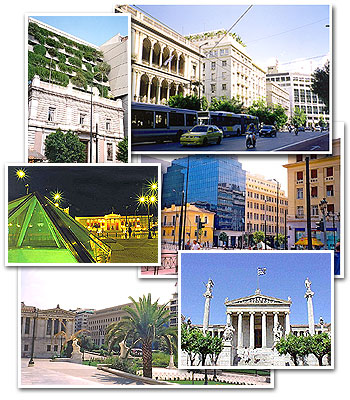 The Panepistimiou Avenue
Leoforos Panepistimiou along with Leof. Stadiou and Leof. Akadimias are three very central avenues, which are parallel to each other and connect the two main squares of the city, Platia Sindagma and Platia Omonoia. They are practically the institutional and political centres, the spinal cord of the "new area" of the historical centre of Athens! Along these roads are housed the main banks of the country, the seats of ministries, universities, agencies and the most important boutiques.
This is also where the interesting shopping arcades of the centre are situated. You are compelled to go this way if you want to cross the city centre by car. There are also interesting museums and the beautiful Athenian trilogy, an outstanding complex of neoclassical buildings dating back to the second half of the 19th century, seat of the city's Academy, University and Library.
The avenue is one way and has 5 lanes, it perfectly sums up the best architectural styles of Athens in the last 150 years. IT IS ABSOLUTELY NOT TO BE MISSED!!!!