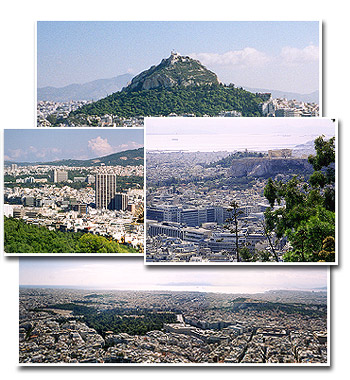 The Likavittos Hill
The historical centre of Athens has developed around 7 hills that are all used as green areas or archaeological sites. What catches the eye among these is the Acropolis hill, the adjacent hills of Filopapou, Water Lilies and the hill of Likavitos, which is 263 metres and is the highest. It emerges right in the middle of the city, offering breathtaking unique views over Athens, which spreads out as far as the eye can see from the mountains to the sea. It's an intense urban conglomerate denser than in any part of the world.
From Likavitos it is possible to admire an exceptional view of the Acropolis, which steals the scene just like a film star who is always wanting to be at the centre of attention. The view is set against the backdrop of the splendid blue Aegean sea, dotted with ships and sailing boats heading towards the ports. It's a real work of art!
At night the view becomes even more exciting. It's a sea of lights broken only by the light of the main roads which seem to be even brighter. The beauty of the whole picture is intensified by the Acropolis which once again, dominates the scene. It's a view you will never forget!!!
On the top of the hill there's a small white church in typical Cycladic style, built more than 100 years ago and next to it a restaurant-bar with a view.