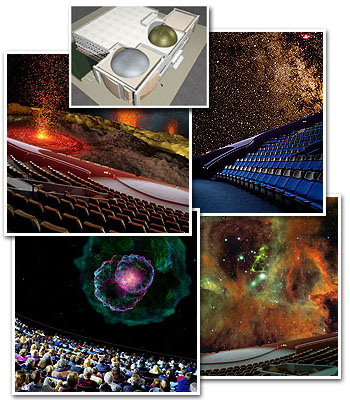 The Athens Planetarium
Athens Planetarium is one of the biggest and the best equipped digital planetarium in the world!
The central dome is 25 metres in diameter, has a surface area of 935 square metres and screen provides a 3-D 360-degree view!
The 280 seats are equipped with an interactive unit which controls the display to ensure the greatest possible degree of comfort for every visitor. Thanks to a real-time images, public can actually play an active role and even determine how the realistic presentation will proceed.
The high-budget IMAX and OMNIMAX film productions will be screend here, thanks to a large-scale cinema film projection system. This new system will project films over an area ten times larger than in an ordinary cinema!
Shows are presented from Monday to Friday from 9.30 until 14.30 and 10.30 until 16.30 on Saturday and Sunday. A normal ticket cost 6 euros.
For further information:
Eugenides Foundation Planetarium
Singru 387 - 17564 P.Faliro (Athens)
Tel. +30-210-9469641 / +30-210-9469600 (8.30am-2.00pm)
Fax. +30-210-9430171
e-mail: public@eugenfound.edu.gr