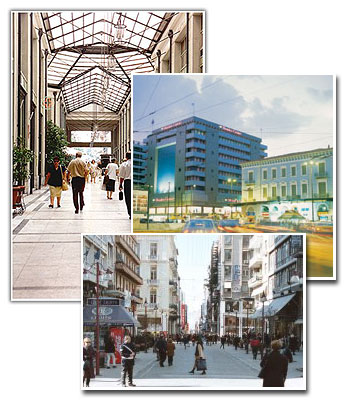 Few are the European cities that offer the same vast choice of goods as Athens.
Shopping in Athens is a truly unique and fun experience. There are a lot shops to choose from, not only in a few lovely streets of the centre, like in other cities, but throughout the city. In Athens the streets and shopping arcades not only are in the centre, but also in vast other shopping areas. Shopping here is for all tastes and budgets..
For exclusive items you can choose from the quarters of KifissiÓ, Kolonaki e Glifada swarming with luxury boutiques, for high street shopping there is the very central Odos Erm¨, the shopping centres of Platia Omonias, the quarters of Nea Ionia, Maroussi, Kalithea or the central avenues of Piraeus. Lastly if you are looking to save money, there's Odos Eolou and the streets around the popular Omonoia square, in stark contrast to the more fashionable nearby quarters. Several areas and streets have gradually become specialised. The picturesque quarter of Psirý for example, is the area of the blacksmiths, the cobblers and the old craft workshops, in the ancient area of Monastiraki there's the flea market and dozens of leather shops. Plaka has become famous for its skilled goldsmiths and souvenir shops and there are many theme streets, like Odos Sturnari, adjacent to the Polytechnic where there are many computer shops.
.the list would be miles long and considering that the Greeks are always inclined to spend money on themselves and on others, it is hardly difficult to understand why there are so many shops, overflowing with all kinds of items.
The Athenians are especially keen on household goods, furniture, decorative accessories, silverware, fashionable clothes especially high fashion and telephony, (Greece is one of the countries in the world with the most mobile phones), and cosmetics. The inhabitants of Athens take care of themselves and their homes and they love surrounding themselves with the latest comforts.