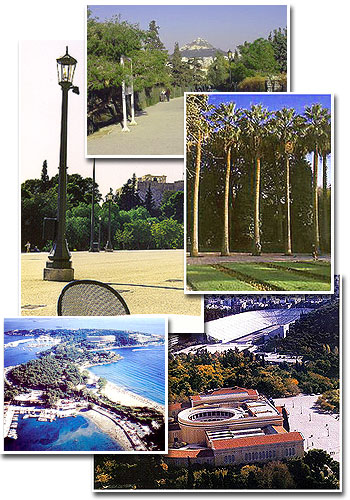 To find relaxation and shade in Athens is easier than it seems.
The historical centre has more than 500 acres of green areas. There are wooded hills with great views and parks full of secular trees and ancient monuments hidden in one of the vastest pedestrian areas of the continent; not to forget the splendid city coastline just a few kilometres from the centre, with fantastic promenades, parks, sports centres, beaches and Miami style residential seaside areas.
Here are some of the ways to relax in Athens:

wandering through the woods of the Filopapou and Likavittos hills, right in the city centre, and climbing to the top to enjoy the breathtaking and unique view.
being driven by horse and carriage through the archaeological Park of ancient Athens, contemplating the great monuments of the classical period.
getting lost in the jungle of the ancient gardens of Ethinikos Kipos and Zapion where through a labyrinth of winding roads in the shade of secular trees, you can really find spiritual bliss.
walking at sunset along the city coast and soaking in the sight of the sun setting over the Aegean sea, famous all over the world for its clearness and its intense blue hue.
visiting the OAKA the most beautiful Olympic park in the world where among small woods, lakes and lawns you can admire the biggest concentration of buildings by Santiago Calatrava, a famous contemporary architect. The futuristic landscape with its monumental structures made of white steel and glass is indeed breathtaking.
sipping a drink in one of the numerous elegant cafès in the green quarter of Kifissià, in the northern suburbs and then launching yourself into shopping in the most fashionable designer boutiques.
These are only few of the examples, by surfing this site you'll discover a number of other ways to enjoy this incredibly fascinating city!!