Athens new International airport is technologically the state of the arts for flight stopovers. It is said to be the airport par excellent of the 21st century. It was entirely pre-planned and was built from scratch on an area where until a few years ago there were only fields. Nowadays itís on its way to becoming a great international stopover and a strategic junction between east and west, Europe and Asia, Africa and the Balkans.
Itís a large, technologically advanced, super modern airport, designed and built for the ever-increasing number of travellers that stopover in the Hellenic capital.
At the moment the airport can cater for 16 million passengers a year, 600 daily flights and 65 flights per hour. Its structure has been purposely studied to allow for its enlargement in the coming years and will eventually reach a maximum capacity of 50 million passengers a year.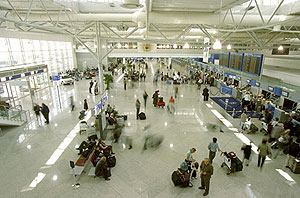 It spreads out on 16,000 acres (as large as a town) and is made up of various buildings. The main terminal is of 150,000 square metres and has four floors. It is linked to a satellite terminal through underground tunnels equipped with tapis roulants.
IT currently has 163 check-in-desks, 24 fingers, 7 information desks and 35 shops in a commercial area of 42,000 square metres.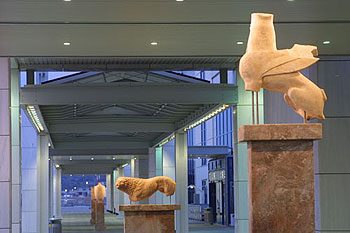 The airport also has 65 parking stations for aircraft, two runways for simultaneous take off, of 4000 metres and 3800 metres respectively, 4800 parking spaces, an Airport Hotel **** and two separate road levels for arrivals and departures.
It is situated on the East side of Athens, 27 km from the centre and is connected to the capital via a new motorway with 6 lanes called Attikž Odos, which encompasses line 3 of the underground and line 1 of the suburban line.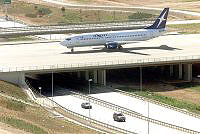 This modern airport has been active since 28 March 2001 and has replaced the two old terminals of the ďEllinikÚĒ airport, situated in the south of Athens. In their place one of the vast Olympic areas of the capital is being built, along with the largest metropolitan park in Europe, one of the numerous ambitious projects of the latest years that are literally transforming the appearance of Athens.